What's cooking in Canada? For starters, it could be greater job opportunities for cooks, albeit with stiff competition. Immigration, Refugees and Citizenship Canada (IRCC), the government agency that oversees immigration to Canada, recently tweeted an article that featured Indian-origin chef Hemant Bhagwani.
"He's opened over 40 restaurants in Toronto and is now embarking on another hospitality journey—bringing skilled chefs to Canada( Canadian) and creating jobs," the tweet stated, using the hashtag #ImmigrationMatters.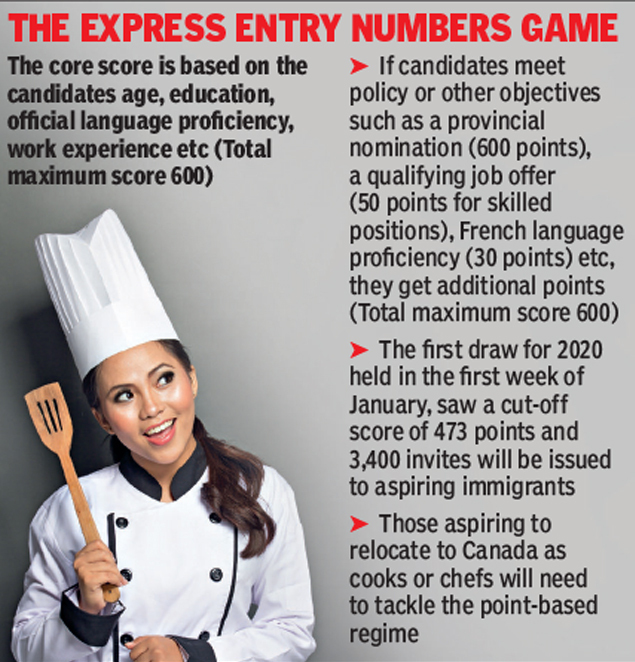 This doesn't come as a surprise, given that the demand for cooks is high in Canada. Job-bank data available on a government agency website indicates, "For cooks, over the period 2017-2026, new job openings (arising from expansion demand and replacement demand) are expected to total 52,200."
While this spells good news, the data also indicates that the available supply—expected at 58,600 (arising from new qualified students and immigration) will result in a marginal surplus. This means stiff competition for those chefs aspiring to migrate to Canada in search of employment. However, those with an entrepreneurial streak can set up their own restaurants, as having a job offer is not mandatory for migration purposes. It's likely that the Express Entry point-based immigration system will be a tough egg to crack, at least for some aspirants.
"I had always dreamed of having my own business, specifically restaurants. However, I would not have become an entrepreneur without the Canadian government's 'Small Business Loan' programme. This programme really supports the small business owner, provided that their homework is done, paperwork is in order and a clear business plan is in place," Bhagwani told TOI.
In 1999, when he moved to Canada, Indian food was looked down upon as most Indian restaurants were not up to par with others. He narrated: "I wanted to elevate the status of Indian food, and I wanted to serve it in a fine dining setting. That is exactly what I set out to do." Since 2002, he has opened 49 restaurants with brands like Amaya, Kamasutra, Indian Street Food Co, Goa Indian Farm Kitchen, and Good Karma.
The Express Entry point-based immigration system was introduced in January 2015 to enable skilled immigrants to work and obtain a permanent residency (which is akin to a US green card). Three economic immigration categories are covered by the Express Entry system—the Federal Skilled Worker Class, Canadian Experience Class, and the Federal Skilled Trades Class.
"A cook is considered a skilled occupation, under the Express Entry. Further, a cook may be eligible for any of the three economic migration categories, each of which has different eligibility requirements," David Cohen, senior partner at the immigration law firm of Campbell Cohen, told TOI.
Bhagwani explains how he helps chefs migrate. "We get the chefs here on work permits (under the Express Entry route), after obtaining Labour Market Impact Assessment (LMIA) under the high wage stream. The salary rate is Canadian $23-25 an hour. This kind of LMIA supports permanent residency applications."
Later he helps the chefs master requisite language skills to enable them to qualify for permanent residence. The Ontario Immigration Nominee Program, the province's economic immigration program, which works in partnership with IRCC has also come in handy.
He has helped nearly 60 cooks in their immigration journey and as the expansion of business is on the cards, several more will be hired over the next few years.
"Experience and skills are more important for ethnic cuisines than formal educational qualifications. Several years of experience in commercial food preparation establishments is a must," said Bhagwani.
Under the Express Entry point-based system, candidates complete an online profile and are given a Comprehensive Ranking System (CRS) score. The CRS score is divided into two portions based on various parameters and a maximum of 600 points can be earned under each portion.
Post getting a score, candidates are placed in the Express Entry pool and ranked relative to each other. Those who rank above the cut-off score get invited to apply for migration.
"The cut-off is interesting when it comes to an occupation like a cook. In November 2016, the government of Canadian reduced the additional points a candidate receives for an eligible offer of arranged employment from 600 to 200 points for a senior management level position; and from 600 to 50 points for other skilled positions. This means that a cook with a CRS score of 250 who obtained an eligible job offer would see his or her score climb to 850, but now it will only increase to 300," explains Cohen.
This change has had its fallout. Cohen illustrates this by saying: "If you look at the 2015 Express Entry year-end report, 'cook' was the second most invited occupation, with 2,295 invites being issued (8% of total invitations). In 2017, cooks ranked much lower down at 28, with just 853 invites (1% of total invitations).
"For those aspiring to migrate under this occupational category, some of the steps may be claiming all the CRS points they are entitled to—say, by improving their qualification, or by pursuing Express Entry-aligned provincial nominee programs which provide an additional 600 points," he added.
I am Blogger, Share my views and stories to help people around me. Reach out to me in case you have something I can help with.