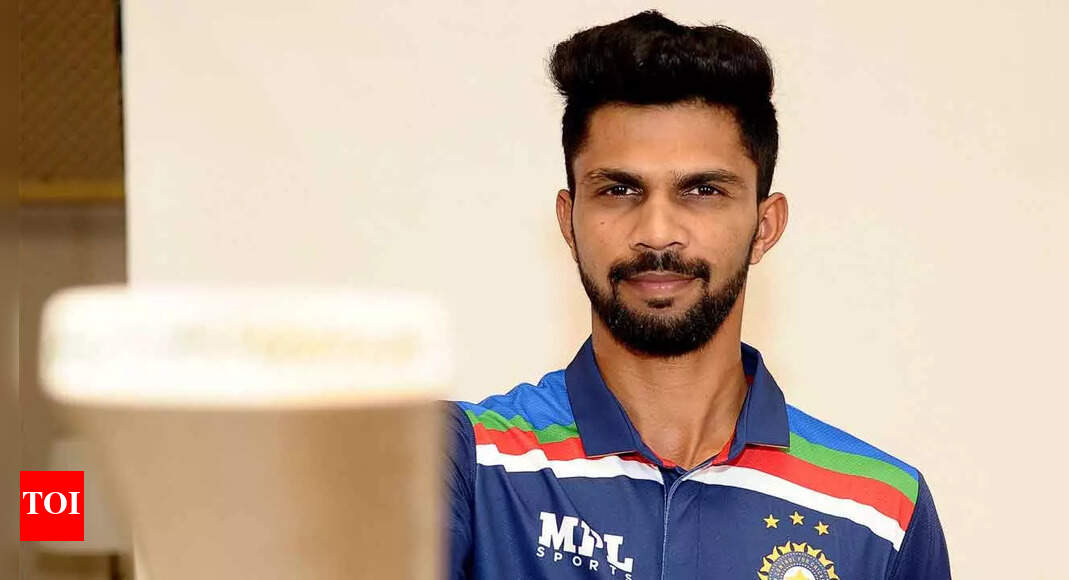 CHENNAI:
Ruturaj Gaikwad
is probably one player who could have made a difference to India's fortunes in the T20 World Cup. But he was not there despite emerging as the
IPL
's youngest Orange Cap winner with 635 runs and the star of CSK's title-winning campaign. However, Ruturaj is not dwelling on the past.
He carried his form in the Syed Mushtaq Ali tournament and is now focused on making the most of the India call-up for the T20I series against
New Zealand
starting on Wednesday.
In an interview with TOI, Gaikwad speaks about
MS Dhoni
's influence on his career, how India's new coach
Rahul Dravid
helped him in his batting approach and future goals.
Excerpts:
This is your second consecutive T20I series in India colours after the Sri Lanka tour. Are you looking at cementing your place in the side, especially with the Indian team in transition?
It feels good to see that my efforts are being recognised. I feel it is the result of the process that I have been following for a while now. I played a couple of games during the Lanka tour and it helped me gain confidence. I felt I was a part of the team and can contribute to the team's cause.
(Photo Source: Twitter)
I took that confidence into the UAE leg of the IPL and performed well. Now, I am not thinking too far ahead as to cementing my place in the side. I am staying in the present and looking to make the most of whatever opportunities I get. I want to give my 100% and want to try win games for India. That's the mindset.
You started on a rough patch, though, in the IPL last year before winning the Orange Cap this season…
The first few games were tough. Within two days of coming out of a lengthy quarantine period, I was drafted into the side at the last moment after Ambati Rayudu got injured. I also had my first few opportunities in the middle-order because our opening pair was doing well. The management had a lot of faith in me, so they thought that even though I didn't have enough practice sessions, I would come out good. But my mindset was off. It was tough to even get used to the lights after coming out of quarantine, and I was not able to judge the ball properly.
So how did things change?
After we were knocked out of the tournament, I again got an opportunity against Mumbai Indians as an opener. I couldn't score much but Dhoni bhai gave me a pep talk. He told me that I "need not worry about my place in the side". He said it was harsh on me and they (CSK management) know the talent I have and how I have been performing in domestic cricket. He asked me to enjoy playing for CSK. (MS Dhoni and Ruturaj – BCCI/IPL Photo)
Those words gave me confidence and showed me the faith my captain and my franchise had in me. It helped calm my nerves because I understood that Dhoni is backing me. So I began enjoying my time on the field and batted with freedom. It got the best out of me. Coming into this IPL, I had a lot of confidence in my abilities, although I didn't think I would win the Orange Cap.
From batting in the middle-order to opening the innings for CSK, how did that happen?
I have always been focused on finishing games. I am used to that mindset. But the bottom line is I always try to keep things simple. I made a few small adjustments in my batting according to the situation and it came off well. In fact, there were one or two games when Dhoni came up to me and told me that when I have the game in my control, I must try and finish it. It's not that an opener should play for only 10-12 overs. I had a discussion with him saying that my mindset has always been to finish the game. (Photo: PTI/BCCI/IPL)
In the Indian team, KL Rahul and Rohit Sharma are expected to open. Will you be open to bat at other positions?
I have not thought about my batting position in the Indian team. But as a professional, I am ready to adapt. I want to focus on things that are under my control. Cementing my place will only happen when I get opportunities and play well. These things depend on a lot of parameters and strategy, and I don't really think about that.
You have worked with Dravid too over the years…
I have been part of many India A tours and we have discussed several things through the years and learnt so much from him. I think it's good to have him back. Obviously, it's good to learn and go back. I will have much experience from speaking to him. He has told me a lot of things and influenced my batting.