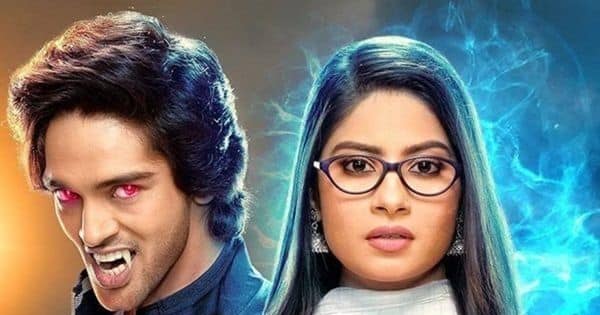 It's a normal day. The 19-year-old Priya (Krishna Mukherjee) is getting ready for the morning prayers. But she's late. She somehow sneaks into the crowd, however, the college warden catches her. She warns her that she doesn't like changes and asks her to sing the morning prayers as usual. Priya gets on the mic and mesmerises everyone with her soulful voice. All of a sudden, Priya sings the tune of Naagin in between the prayers. The warden, who is also her local guardian, wonders what's upto Priya and asks her to come to her cabin. Also Read – Harsh Rajput on playing a vampire in Kuch Toh Hai: I get dizzy when I get cut or see blood on my finger
While Priya and the warden are having an emotional conversation, some girls rush in to the office and informs them that Rohini had climbed up the terrace and trying to jump. They all rush towards them. The warden asks whose responsibility was to look after Rohini? Priya nods her head in affirmation. Priya climbs up the terrace and tries to convince Rohini to step down but all in vain. Rohini slips and in an attempt to pull her back, Priya holds her hand and they both fall on the ground. But no one's hurt. Everyone is shocked and wonders how Priya didn't get hurt despite falling so hard on the ground. But the warden knows her truth. She tries to shoo away the boys who are busy shooting her video. But before she could stop them uploading on the internet, it is too late. Also Read – LOL: Nazar's tiny tot Kiara Bhanushali imitates Chudail Sreejita De and it's hilarious
The warden recalls how she found Priya in the cow shed and realises that she has supernatural powers. She picks her up and vows to protect her from the outside world. The warden scolds Priya for using her supernatural powers in front of everyone and tries to get her away from the public eye. She wishes to send her to her mother who Priya is unaware of. Also Read – EXCLUSIVE! Nazar actor Harsh Rajput's brother Preet Rajput steps into Ishaan Khatter's shoes for the TV adaptation of Dhadak
But before they could flee, some people come looking for Priya. The warden asks Priya run away but a few boys from her college mob her and ask her to click a selfie with him. She looks irritated and scared. She takes the bicycle next to her and rides it at the speed of light. Some college friends are discussing about their ghostbusters girl gang.
Priya gets fed up of running away without any direction. She cries and questions herself why is she like this and where she will go. She looks at her mother Bani's photograph and rides to Mussoorie on her bicycle. Meanwhile, the girl ghostbuster gang are also looking for someone. As Priya reaches a cafe, Rehan's brother lands there and approaches her asking her is she needs a place to stay. She exchanges her phone number with him and gets to a house that looks quite familiar to her.
As Priya unpacks her bag, she realises that she has lost her purse which had her mother's photograph. She recalls where could she have forgotten it. She goes back to the cafe and finds it there. But the moment she leaves the cafe, she comes across a Naagin near her bicycle and flees from the spot. The nearby ghostbusters gang hear the strange voices and follow them to the jungle. All of a sudden, the wind blows, crows fly, lights go on and off and we are introduced to the first glimpse of Rehan (Harsh Rajput), who is a vampire. Priya and Rehan somehow cross paths with each other and they just can't stop staring at one another. Other girls bitch about the good looking guy Rehan being rude and arrogant after he refuses to click selfies with girls and shames them for their looks.
Piyali 'Piya' Singhania (Nibedita Pal) along with her girl gang are trying to looking for Rehan Raheja who is missing from the party. Meanwhile, Rehan is spending his time at a secluded Khandar. He plays the mouth organ which only Priya can hear. Suddenly, she starts dancing at the party. People are absolutely shocked to see her. Some girl comes looking for Rehan in the jungle but some other guy named Dhruv finds her and forces himself on her. Priya couldn't figure out if the tune, which she had been hearing since childhood, has some connection with mother and her supernatural powers.
Here, Rehan comes and saves the girl from Dhruv's arms. Rehan beats the hell out of Dhruv who is no match for him. Rehan is faster, smarter and more skilled in hand-to-hand combat. Rehan's identity has now been revealed. He is the son of Bani (Surbhi Chandna) and Veer (Sharad Malhotra). A hybrid of Naagin and Cheel called AadiSaach. A cursed AadiSaach. He is a shape-shifting vampire. He sucks all the blood out of Dhruv as he stucks his sharp teeth in his neck. He won't stop until an angel will come into his life and calm down his thirst for blood.
Stay tuned to BollywoodLife for the latest scoops and updates from Bollywood, Hollywood, South, TV and Web-Series.
Click to join us on Facebook, Twitter, Youtube and Instagram.