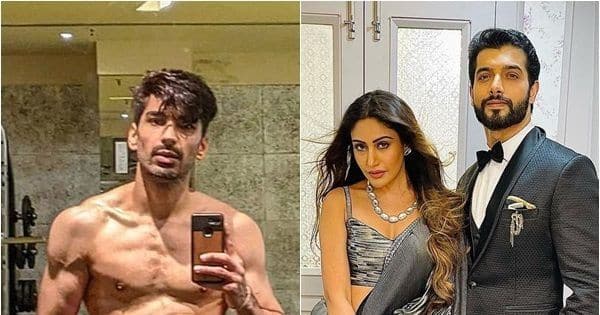 The episode starts with Bani (Surbhi Chandna) realising that Veer (Sharad Malhotra) was right about Jay's (Mohit Sehgal) intentions. As Jay tries to explain his side of the story, Bani attacks him. But Jay is already being hit by an arrow. He collapses on the floor and warns Bani that Markat will kill everyone. The show now begins narrating what transpired seven hours ago. Also Read – Yeh Rishta Kya Kehlata Hai, Taarak Mehta Ka Ooltah Chashmah, Naagin 5 – here's what the audience would want to see from their favourite TV shows in 2021
Tapish calls Bani as they get trapped by their business rivals. The call drops abruptly which makes Bani think that something is wrong with Veer and Tapish bhai. And the moment the kidnappers shift Veer to a different place, Bani arrives at the place where Tapish has been trapped under a magical net. Bani releases them with her powers and rushes to a secluded house where the kidnappers have held Veer captive. Also Read – Hina Khan's boss lady look leaves us stunned – view pics
Bani, Jay and Tapish beat the hell out of the kidnappers and find Veer lying on the ground unnconscious. As Bani tries to wake Veer up, Jay asks her to make him drink the potion (poison). Jay gives a wicked smirk and recalls how he once again joined hands with Markat who reveals that she was responsible for hypnotizing Veer and getting full control him. Jay releases Markat from the magic spell. Also Read – 'I want a life without fear in 2021,' says Hina Khan
As Bani opens the bottle, which has poison in it, Markat looks on from a distance. Bani realises that something is wrong with the potion. She throws the poison on Markat and scolds her for trying to wipe out her own blood. Bani curses Markat for being a lousy mother and tells her that she won't even be able to touch Veer till she's around. Markat assures Bani that she will come back for revenge.
As Veer fights for his life, Bani begs before Lord Shiva to save him. "Mere suhag ko jeevan daan de dijiye. Kyuki jab tak aap nahi manenge, mai nahi maungi," Bani informs Lord Shiva and starts performing a divine dance in front of his idol. Bani dances her heart out till Lord Shiva grants her wish and gives Veer a new life.
Veer wakes up from his sleep and starts looking for Bani everywhere in the house. Bani and Veer finally stand before each other. Both get emotional and run towards each other. They hug each other tightly, feel the warmth and starts shedding tears of joy. Veer wonders how Markat had done this to him. Bani informs him that it all happened because of Jay and tells Veer that he was right about his intentions. She informs everyone that Jay was two-timing them with Markat and had tried to poison Veer.
The next moment, Jay arrives and everyone looks on to him with anger. Bani shuts Jay down and calls him a traitor. Bani gives Jay a peace of her mind. She asks Jay what did he gain out of all of this betrayal. "Tumpe bharosa hi nahi raha. Nafrat karti hai hu tumse, nafrat. Dafa ho jao abhi ke abhi," Bani rebukes Jay.
Bani gets very angry over Jay. She turns into a Naagin and snaps him with her tongue. Jay collapses on the ground with an arrow stuck in his back. "Tum jaisa samajhte ho waisa nahi hai. Wo sabko maar degi," Jay informs Bani about Markat as he takes his last gasp.
As Jay struggles for his life, Veer realises that he has again lost his powers. Balwant says that his powers may fluctuate for some time. In the meantime, Bani heals Jay's wounds with her supernatural powers.
Jay tells Bani that Markat is responsible for everything that has happened. Bani argues that it was him who released her from the magic spell. Jay denies helping Markat to escape. No one believes him. As Jay continues to bear the pain, he tells everyone that he has killed the Markat.
While Bani, Veer and others find it difficult to trust him, Jay drags the mortal remains of the Markat at their doorsteps. Balwant asks Shukla to reconfirm whether she is a real Markat or just one of Jay's magical spells to distract them from the truth. Balwant expresses his happiness and takes Jay inside after he again collapses on the ground and regains their trust. Veer and Bani still can't come to terms that Markat is lying dead before them.
Stay tuned to BollywoodLife for the latest scoops and updates from Bollywood, Hollywood, South, TV and Web-Series.
Click to join us on Facebook, Twitter, Youtube and Instagram.