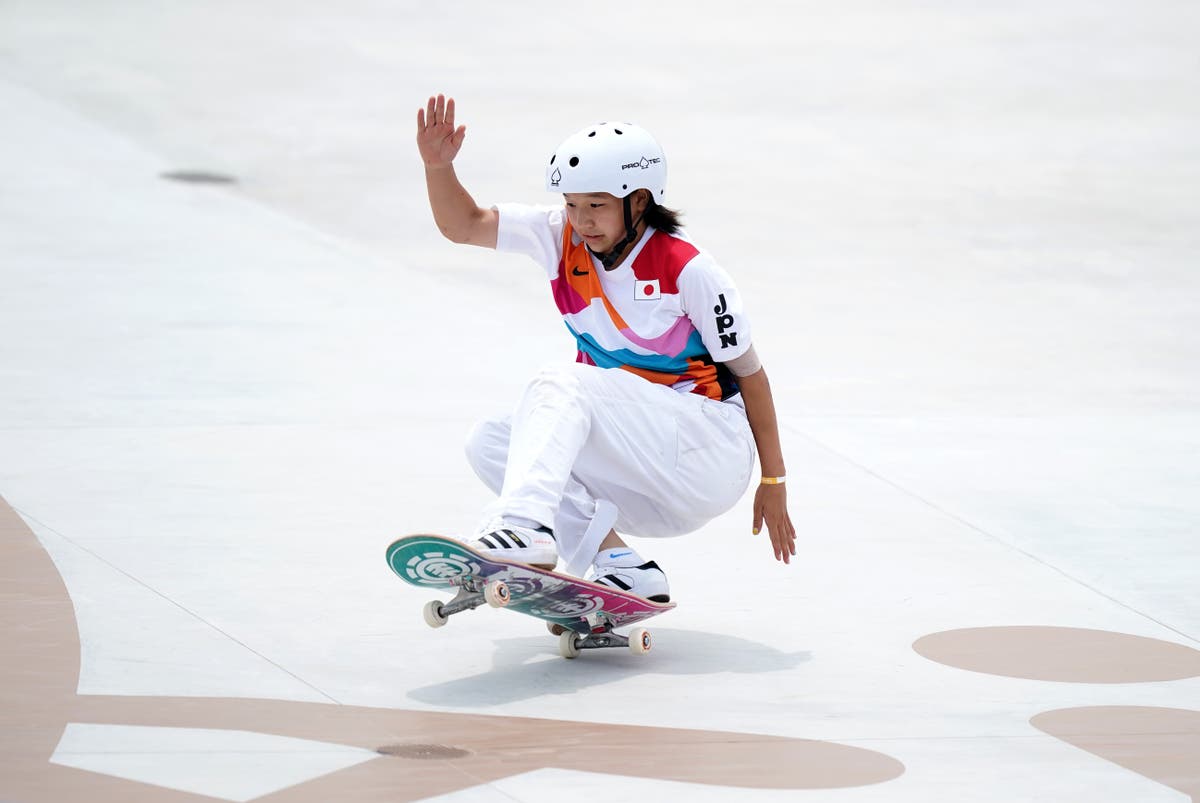 Host nation Japan is now leading the gold medal table at the Tokyo Olympics with 22 more medal events being held on Tuesday's Day 4 of the Games.
Japan, with eight golds is sitting on top of the standings, ahead of the United States, which has seven golds, and China, which has six.
The ROC team, which stands for "Russian Olympic Committee", is fourth with four gold medals and Great Britain is tied with South Korea with three gold medals.
China leads the overall medal haul with a total of 18 gold, silver and bronzes, followed by the United States with 14 and Japan with 13.
The ROC team is in fourth place overall with 12 medals, while Great Britain and South Korea are tied in sixth place with seven medals each.
Great Britain surged up the medal table at the Tokyo Olympics after winning three gold medals on Monday.
Adam Peaty became the first British swimmer to successfully defend an Olympic title after roaring to victory in the men's 100 metres breaststroke final in 57.37 seconds, the fifth fastest time in the history of the event.
FOLLOW LIVE: Latest updates from the Olympics
Then it was the turn of Tom Daley and Matty Lee to take gold in the men's 10m synchronised platform diving, with the pair managing to hold off a formidable Chinese outfit. Daley was in total disbelief after finally taking the top prize at his fourth Games. "You want to win an Olympic gold medal but never think you actually will," he said. "I will carry on but I will definitely take a break. There are some beverages with my name on it to celebrate with my husband and family."
Sign up to our football and rugby newsletters to receive dedicated Tokyo 2020 Olympics emails
Tom Pidcock then completed the medal rush with victory in the men's mountain biking race. However, Team GB still trail the United States, who picked up three golds in the shooting, and China, who dominated the weightlifting in similar fashion. Hosts Japan are lead the table after impressing in judo and skateboarding.
Here is the medal table in full (updated as of 4pm PT Monday 26 July)
| | | | | | |
| --- | --- | --- | --- | --- | --- |
| Rank | Country | Gold | Silver | Bronze | Total |
| 1 | Japan | 8 | 2 | 3 | 13 |
| 2 | United States | 7 | 3 | 4 | 14 |
| 3 | China | 6 | 5 | 7 | 18 |
| 4 | ROC | 4 | 5 | 3 | 12 |
| 5 | Great Britain | 3 | 3 | 1 | 7 |
| 6 | Korea | 3 | 0 | 4 | 7 |
| 7 | Australia | 2 | 1 | 3 | 6 |
| 8 | Kosovo | 2 | 0 | 0 | 2 |
| 9 | Italy | 1 | 4 | 4 | 9 |
| 10 | France | 1 | 2 | 2 | 5 |
| 11 | Canada | 1 | 2 | 1 | 4 |
| 12 | Hungary | 1 | 1 | 0 | 2 |
| 12 | Tunisia | 1 | 1 | 0 | 2 |
| 14 | Croatia | 1 | 0 | 1 | 2 |
| 14 | Slovenia | 1 | 0 | 1 | 2 |
| 16 | Austria | 1 | 0 | 0 | 1 |
| 16 | Ecuador | 1 | 0 | 0 | 1 |
| 16 | Hong Kong, China | 1 | 0 | 0 | 1 |
| 16 | Iran | 1 | 0 | 0 | 1 |
| 16 | Norway | 1 | 0 | 0 | 1 |
| 16 | Philippines | 1 | 0 | 0 | 1 |
| 16 | Thailand | 1 | 0 | 0 | 1 |
| 16 | Uzbekistan | 1 | 0 | 0 | 1 |
| 24 | Netherlands | 0 | 3 | 0 | 3 |
| 25 | Chinese Taipei | 0 | 2 | 2 | 4 |
| 26 | Brazil | 0 | 2 | 1 | 3 |
| 27 | Georgia | 0 | 2 | 0 | 2 |
| 28 | Czech Republic | 0 | 1 | 1 | 2 |
| 28 | Indonesia | 0 | 1 | 1 | 2 |
| 28 | Serbia | 0 | 1 | 1 | 2 |
| 28 | Spain | 0 | 1 | 1 | 2 |
| 28 | Switzerland | 0 | 1 | 1 | 2 |
| 33 | Belgium | 0 | 1 | 0 | 1 |
| 33 | Bulgaria | 0 | 1 | 0 | 1 |
| 33 | Colombia | 0 | 1 | 0 | 1 |
| 33 | Denmark | 0 | 1 | 0 | 1 |
| 33 | India | 0 | 1 | 0 | 1 |
| 33 | Jordan | 0 | 1 | 0 | 1 |
| 33 | Romania | 0 | 1 | 0 | 1 |
| 40 | Germany | 0 | 0 | 3 | 3 |
| 40 | Kazakhstan | 0 | 0 | 3 | 3 |
| 42 | Egypt | 0 | 0 | 2 | 2 |
| 42 | Mongolia | 0 | 0 | 2 | 2 |
| 42 | Turkey | 0 | 0 | 2 | 2 |
| 42 | Ukraine | 0 | 0 | 2 | 2 |
| 46 | Estonia | 0 | 0 | 1 | 1 |
| 46 | Israel | 0 | 0 | 1 | 1 |
| 46 | Ivory Coast | 0 | 0 | 1 | 1 |
| 46 | Kuwait | 0 | 0 | 1 | 1 |
| 46 | Mexico | 0 | 0 | 1 | 1 |
| 46 | New Zealand | 0 | 0 | 1 | 1 |