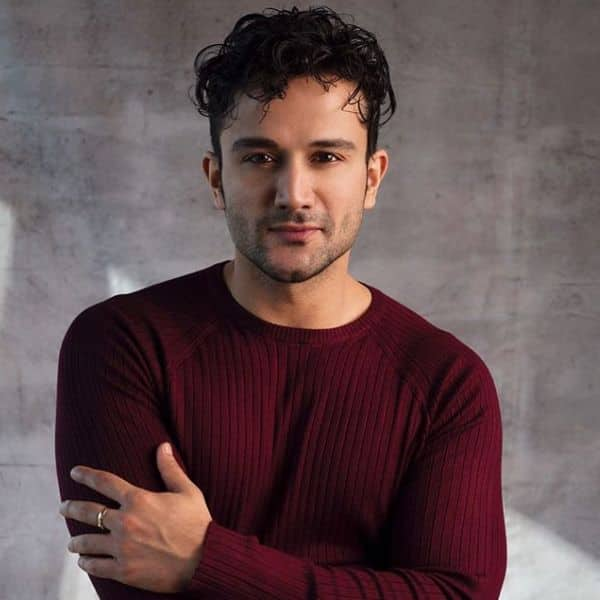 Paurashpur has been loved by the audience and the web series has got a brilliant response from the audience. It is touted to be India's most lavish and expensive web series. The show has got a stellar cast of Annu Kapoor, Shilpa Shinde, Shaheer Sheikh, Milind Soman, Sahil Salathia, Anantvijay Joshi, Poulomi Das, Aditya Lal, Ashmita Bakshi, Kashish Rai, and Flora Saini. Sahil Salathia in an exclusive interview with BollywoodLife, spoke about his character Bhanu and said that they have made this character with a lot of love and responsibility. He said, "Milind is playing the third gender but Bhanu, which is basically my character, is the dance teacher. He is the nritya guru and of course nothing like this I have done before but that's the whole idea of being an actor. I don't want to repeat myself, when you sign up to become an actor the idea is to live different people on-screen with all with heart. So in this, I am playing the nritya guru who is has dual sexuality. So basically he is the man but he is dual sexual." Also Read – Shaheer Sheikh says he 'would love to' reunite with his Kuch Rang Pyar Ke Aise Bhi costar Erica Fernandes
He added, "That is why you see similarity between my character and Milind Soman's character and my character and Shilpa's character, Queen Meeravati. I don't think a character as strong as this, who is representing dual sexuality, has been written before and even if it was written, I am sure it is not written this way. The theme is written very beautifully also there are no caricatures because in Indian entertainment I think we like to make caricatures out of people like this is how this character would behave, this is how this community would behave. So in this, we have tried to stay away from this and we have done it very beautifully and responsibly with a lot of love n respect. When the script came to me, it looked very good like the screen play or story telling is very strong, my character is exceptionally strong but when it went on from paper to execution like when we shot out it came out even better and we have shot it very well so I don't think that there is any scope or anybody to feel hurt or misrepresented or not represented well so I don't think there will be anything negativity around this, because it's been shot like I said, with a lot of love and responsibility so I think people are going to love it and they will be very proud of how everything is been taken care of, of all the detailing that has been taken care of." Also Read – Paurashpur: When Milind Soman failed to recognize Shilpa Shinde when she was dressed as a queen
Sahil, who was earlier seen as Shamsher Bahadur in Arjun Kapoor's Panipat, said that he was trained by Saroj Khan's granddaughter for classical dancing. He shared, "For this, there was a lot of homework because it's a dance teacher, Bhanu. I did a lot of classical dancing with Sana Khan. Sana Khan is the choreographer, I had a lot of workshops with her. She is late Saroj Khan ji's granddaughter. Obviously on sets, she has helped me a lot and other than the way nritya guru or Bhanu the way he speaks it's a very certain style that I have got to adapt, I like to do that for all my characters, I don't like to sound the same and I give them a certain kind of voice modulation so I think this one's also gonna be different. Bhanu has his own style, his own way of talking, his diction has to be correct, he is very poised and I as a person I am not poised at all, I am like a goof ball dropping playing dropping playing but Bhanu is completely opposite so of course I did a lot of homework to get the body language right. This is the first time when u see me dancing, so I hope people will like it, it's very authentic classical dancing so that in itself is very tough because as a man I have not learnt in school, generally sometimes and girls in general sometimes have that poise in them, you know they very graceful whatever they do certainly looks very beautiful but as a man, it is very difficult to get the classical mudras right but I did get it right and more than that the most interesting thing about Bhanu is that he is the dance guru he is dual sexual but he is not a feminite that's what we have no caricatures so he has got a very strong personality. He is very masculine he is very manly but at the same time he has that poise and that grace so we had to find that correct balance." Also Read – Trending Entertainment News Today: Amitabh Bachchan as Michael Jackson, Ananya Panday-Ishaan Khatter head to the Maldives
He also spoke about his experience working with Shaheer Sheikh, Shilpa Shinde, Milind Soman, Annu Kapoor and others. "It was a great experience working with each one of them. Shilpa is a wonderful girl like we get along very well, she is damn funny and she is always laughing on set so u know she has a very positive energy to work. So Shilpa and I are like we can work very well, we are friends now even after Paurashpur we talk to each other and give each other feedback. Milind and I also get along very well. He is a great guy, he is such a fitness genius, I won't take any fitness tips from him but I am keeping my questions ready, I will take them soon. Shaheer and I are both from Jammu so he and can be a brother from another mother from Jammu because Jammu is a very small community it's a very small thing in general like as city so it's always great to work with people from the same region. And Annu ji he is such a legend I mean for me it's such a pleasure to be shooting with him because he is such a such a legend. So, when you work with actors like Annu Kapoor you automatically learn so much from them," he shared.
Sahil Salathia was all praise for set designer Nitin Chandrakant Desai. He said, "Nitin Desai and I are like we have worked on Panipat so everybody knows he is such a magician when it comes to sets and on Paurashpur he has outdone himself. Paurashpur is extremely exquisite and it looked extremely beautiful and of course all the credit goes to him. I am very excited for people to see the grandeur that he has got in Paurashpur that I think it's his finest work."
Stay tuned to BollywoodLife for the latest scoops and updates from Bollywood, Hollywood, South, TV and Web-Series.
Click to join us on Facebook, Twitter, Youtube and Instagram.