[ad_1]
Sunday mornings at Chennai's Kannagi Nagar serve sights unlike anything else.
On intersections, riding pillion on bikes and cycling along parallel roads are the children of Kannagi Nagar, armed with their prized possessions: the Silambam staff ( kambu).
Come 6am, they diligently make their way to a small ground flanked by busy Housing Board settlements to learn the ancient Tamil martial art under the strict guidance of Master Lakshmipathi, a Kannagi Nagar resident himself. They begin with warm up, practise quick footwork, and move on to duel and showcase in quick succession.
Kanishka, currently in Class II, speaks only in shy smiles but transforms as soon as she touches her  kambu. In seconds, the staff becomes an extension of her body as she moves with poise and control, and ends with a full split on the ground. Kanishka is just one of over 70 students of Lakshmipathi, all hailing from the locality.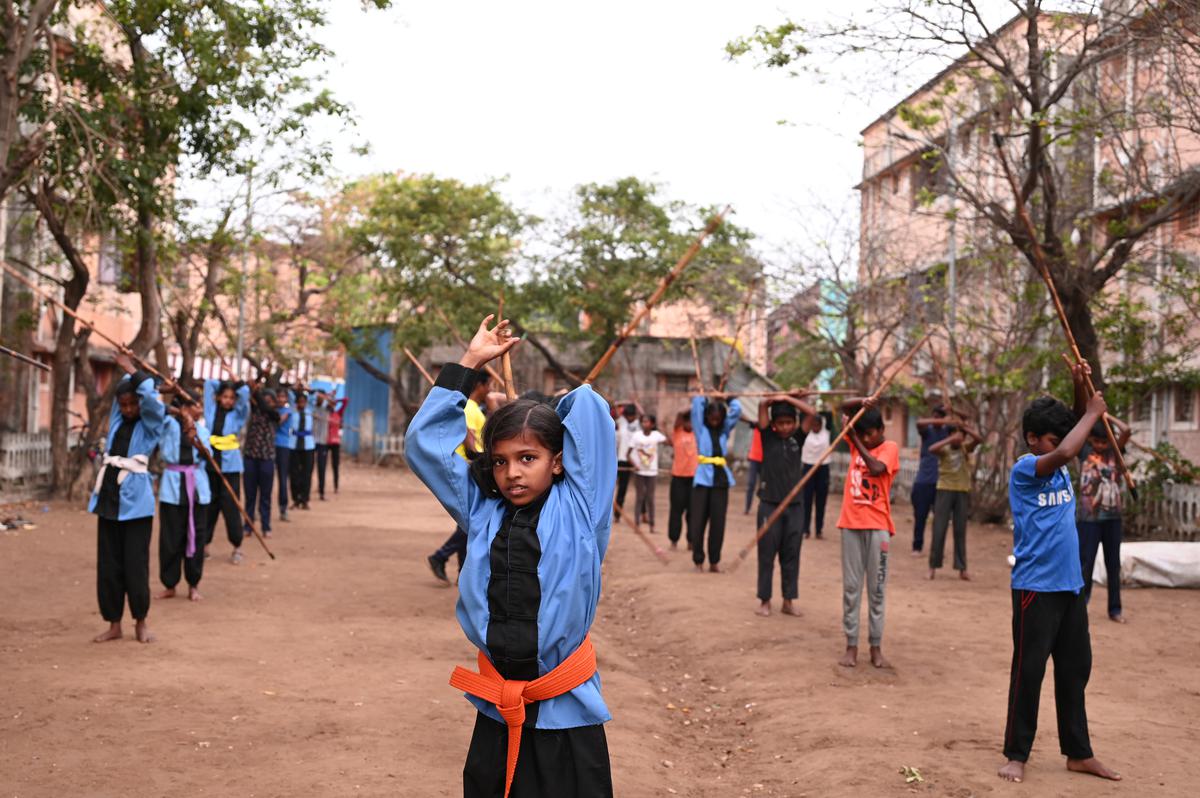 I ask, "Why Silambam?" "It is our  parambariya kalai. We should not ignore it," says 14-year-old Vishal with a serious nod, without pausing once to think. "It feels really nice to learn something that is ours."
It is this very sentiment that spearheads Silambam's obvious resurrection over the last three to four years.
With a history of more than five thousand years, some literature suggests that Silambam was used for warfare and self-defence in the Sangam era by South Indian rulers. Though there is recorded evidence of palm manuscripts that suggests the artform's presence as early as the 4th Century BC, it is likely to have been a survival technique developed by hunter-gatherers. However, when the British arrived in India, the artform took on a performative role used mainly for showcases.
With the end of colonial rule, Silambam's identity as a martial art form was unveiled, once again, thanks to its presence in celluloid.
The stick in use now, is made of cured and flexible cane bamboo, while for iterations of the stick — m aan kambu,  vael kambu,  surul vaal and daggers — different materials like wood, iron and steel are used.
Today, Silambam is clearly having its moment in the sun. It is steadily marking its presence by cutting across socio-economic backgrounds and adapting to urban spaces and viewpoints while also holding on to its staunch Tamil identity.
 A quiet revolution 
In Housing Board settlements like Chennai's Kannagi Nagar and Nochikuppam, Silambam is a silent tool for empowerment and rehabilitation.
Lakshmipathi says, "A few years ago, I went for a job interview and I was told that I was not eligible because I am from Kannagi Nagar. This made me wonder about our children's future."
This realisation coupled with the need to change the public perception of the locality being riddled with crime and gender-based violence, led him to start Silambam classes for children seven years back.
"Silambam requires focus and discipline. I strongly believe that the classes will divert their attention from other miscreant activities and take them on a good path. It will prepare them for life," says Lakshmipathi who is a delivery executive by day.
In 2021, when the Government of Tamil Nadu recognised the weapon-based artform's eligibility for 3% sports quota, it catapulted the interest. "It was a huge encouragement, and we started seeing a lot of support from the parents since then."
Coimbatore-based Tholkappiyan echoes this sentiment. The Silambam teacher who hails from a working class background now runs Tholkalai Silambam, a school that has grown to become a three-legged institute across colleges and schools in Coimbatore with 300 students.
"Around 60% to 70% of students come for certificates that will help them in the future. After the pandemic, there is an exponential rise in interest," says Tholkapppiyan.
The stigma surrounding the artform as a 'rural sport' has also diminished. He says, "Earlier, people would ask,  Enna, kuchi suthurathu thane? (It's just rotating the stick, right?).Now, the sport is being taken seriously."    
An urban lens 
Cut to a more urban landscape, and Silmbam has effortlessly managed to merge into the social fabric of cities like Chennai. Much like running, cycling and boxing, the martial art has become commonplace in the early-morning cityscape.
"When I was looking for traditional Silambam classes in the city, over a decade ago, there were no recommendations nor could I find any classes," says Chennai-based visual artist, educator and international Silambam practitioner Aishwarya Manivannan. Eventually she found her guru 'Power' Pandian  asan, and was able to start. However, she was the only woman in her class of around 30.
"On the contrary now, if you just drive around in the mornings, you can see that almost every single public park has Silambam classes. You see children carrying the  kambu in public transport and parents with children on bikes, on the way to classes… Clearly, a lot more people are aware of Silambam being our own ancient martial art," says Aishwarya, adding that the sheer number of people learning the artform has "skyrocketed".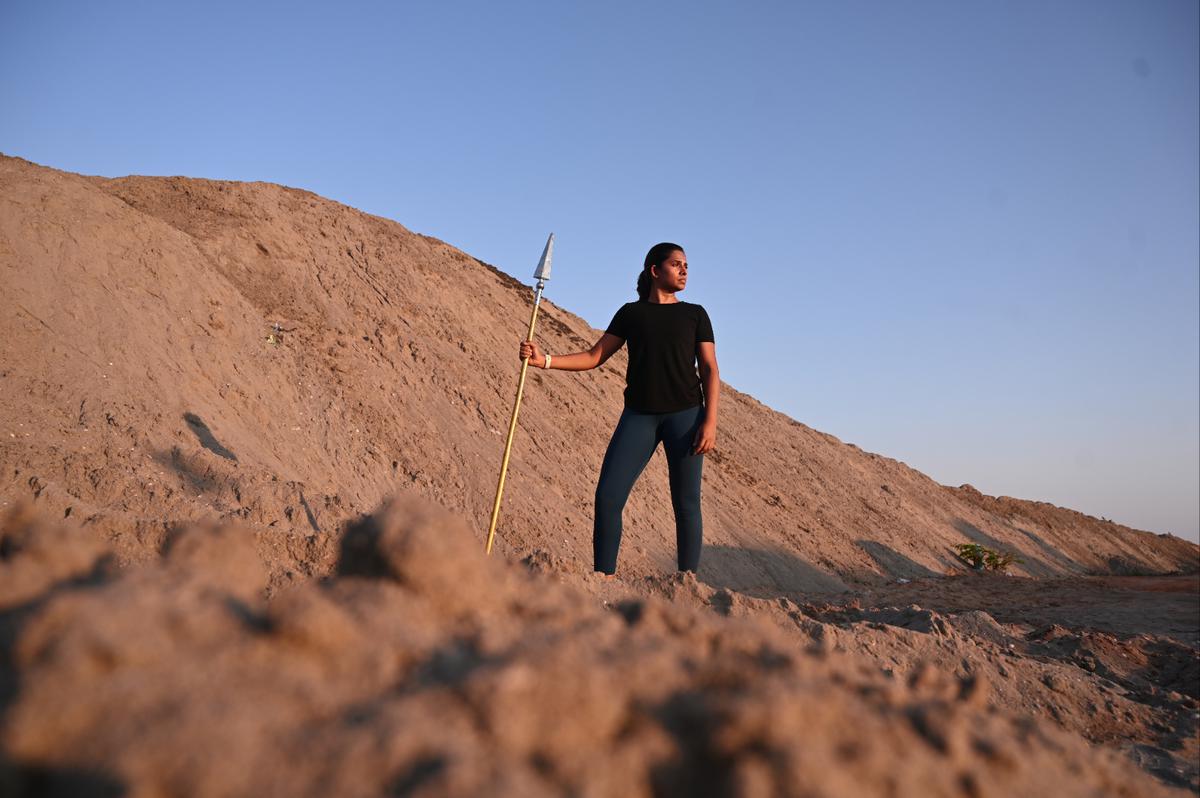 Unlike some traditional artforms that have gained only popularity with no active implementation, Silambam has steadily seen people taking up the practice.
"You can learn and practise Silambam now as a martial art, performing artform or sport. It is interesting to see how something so rooted in Tamil culture has evolved through thousands of years to become this," says Aishwarya. In a recent open workshop, Aishwarya had a motley crew of designers, teachers, doctors, engineers and college students as enthusiastic participants.
The martial art is also seeing modern interpretations and adaptations. Hareni, a 24-year-old professional Bharatanatyam dancer from Manapparai in Tiruchi, is trying to merge the two artforms in performance. "The footwork for both, though not the same, can be synced. Silambam is considered masculine, while Bharatanatyam is considered a more feminine form of art. Merging the two would give it the character of both," says Hareni. Moreover, she hopes this innovation will further Silambam's popularity and make it more dramatic.
More recently, Tholkappiyan says that adults are taking up classes to form fitness routines around the sport. "Silambam sculpts the body and mind. We see a lot of adults who are disillusioned with gyms, coming in, among them a few learn because of its Tamil roots," says Tholkappiyan.
For Aishwarya, Silambam is simply meditation through movement. "It is refreshing and gives me so much energy. The journey has been empowering in so many different ways, not just physically but emotionally as well." She says that many tend to look at martial arts as 'violence' or 'aggression'. But through the practice, this perception gets debunked.
"We end up becoming calm and connected with our surroundings, body and mind. It grounds us and gives us wings at the same time."
[ad_2]